To start at the beginning of our Mobile Radio BSP documentation click here.
Radio artist Anna Friz took a trip from the US down south to spend a week in residency with us at the Mobile Radio BSP studio. She brought along her own brand of undercover exhibition assessment (listen) and time-keeping method (listen), and her show with Sarah provoked some actionist intervention.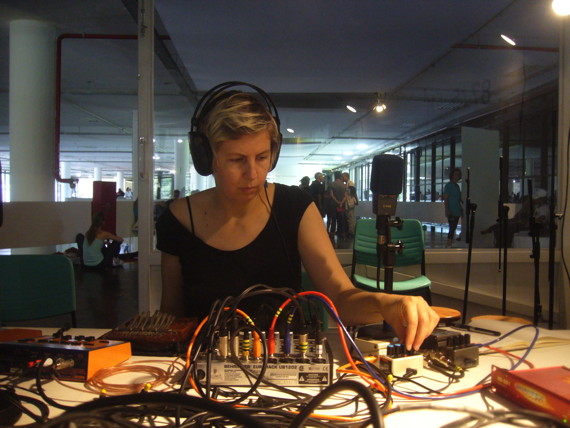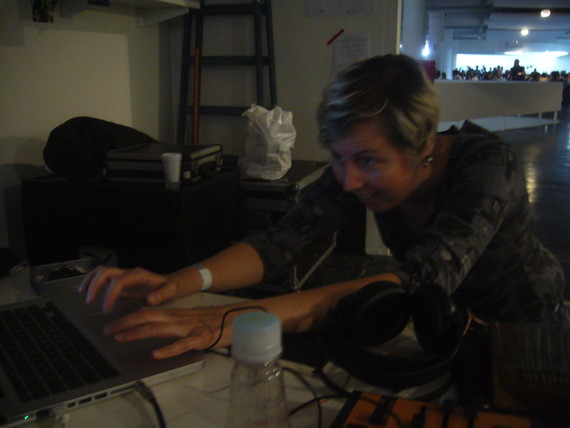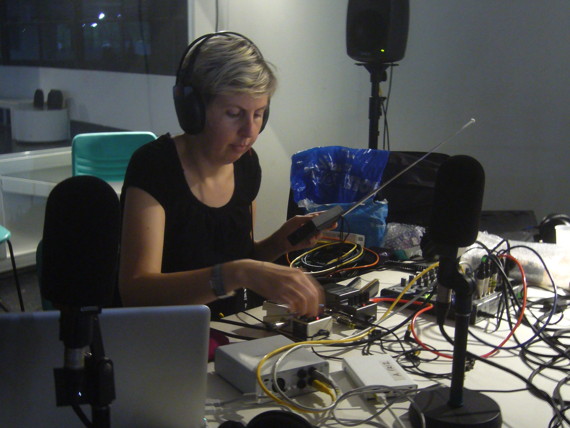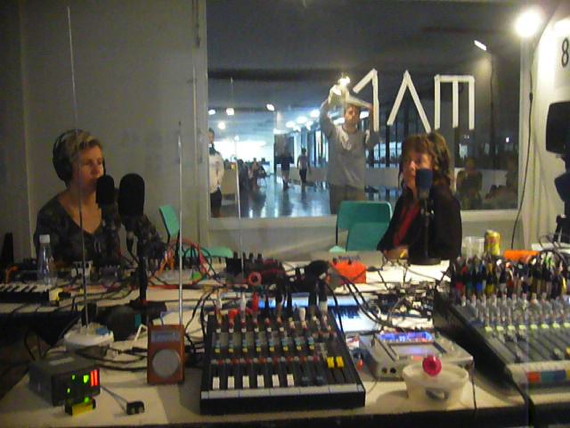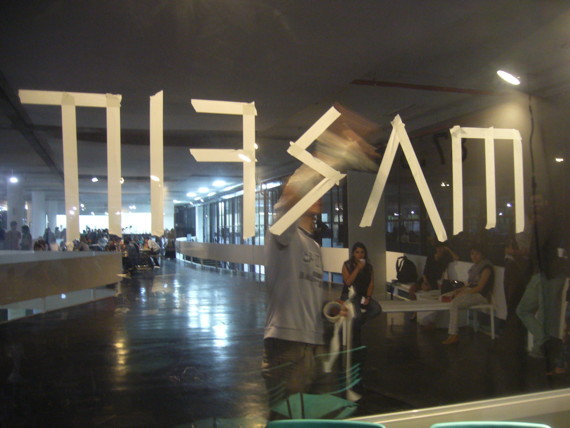 The Octopus Collective's Glenn Boulter & John Hall from Barrow-in-Furness managed to bring their elaborate take on Cumbrian news aggregation to our radio (listen / listen). Everybody in the studio had to take part in reading the news, and children were forced to sing songs about horses. What the Barrowites took home was an addiction to Estadão pork sandwiches.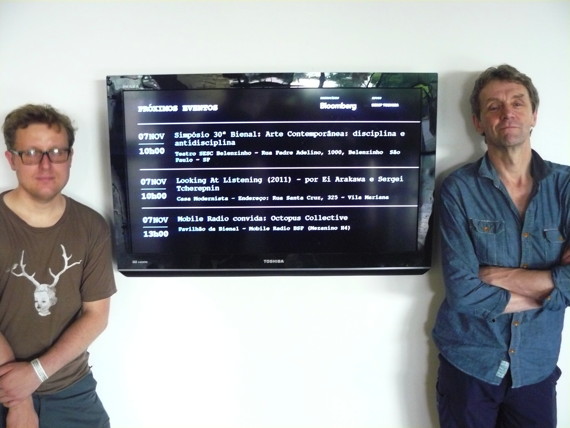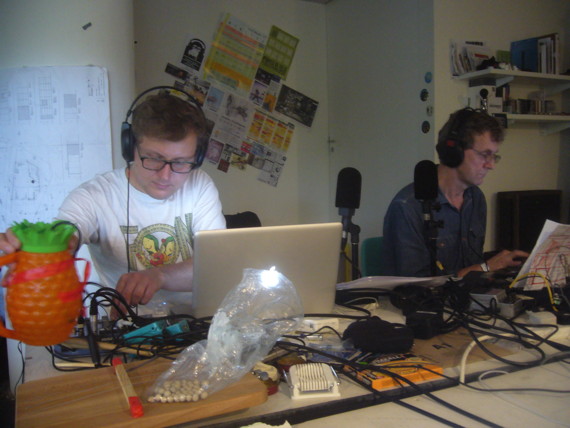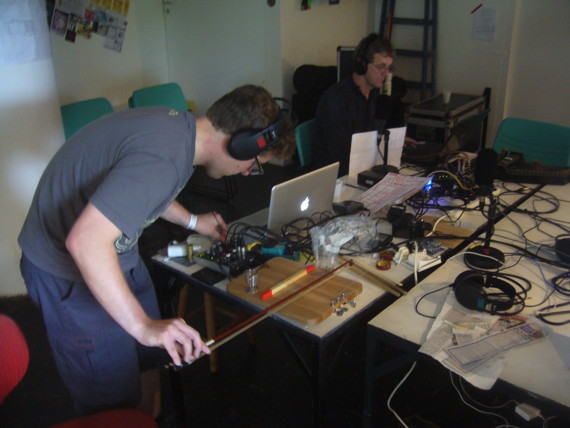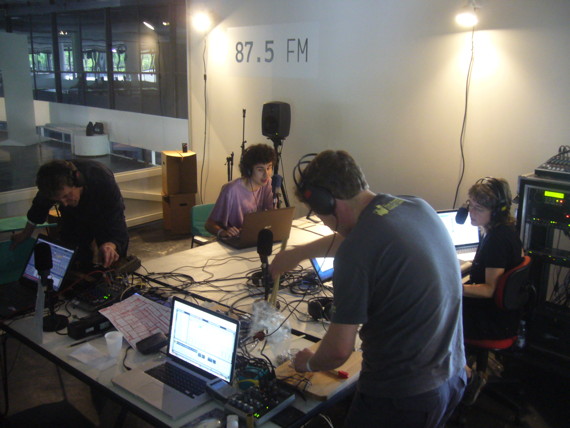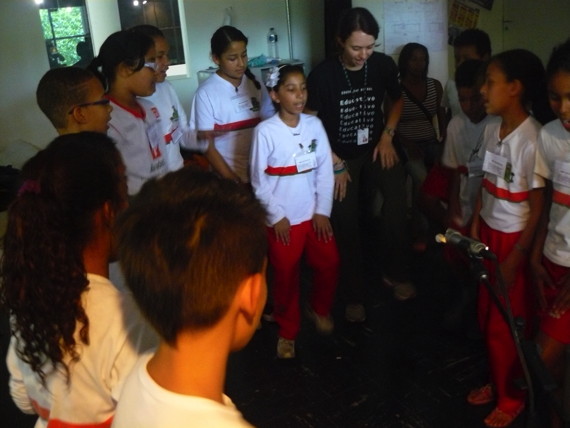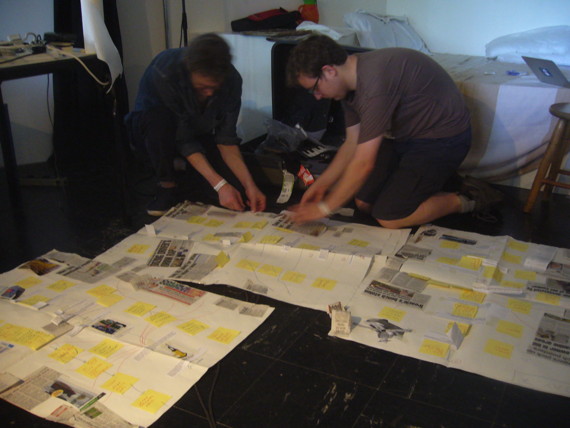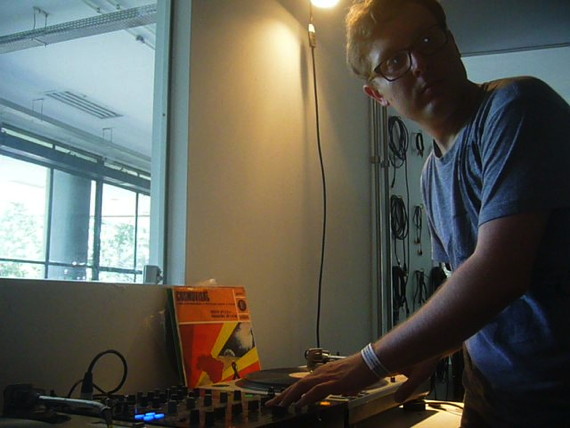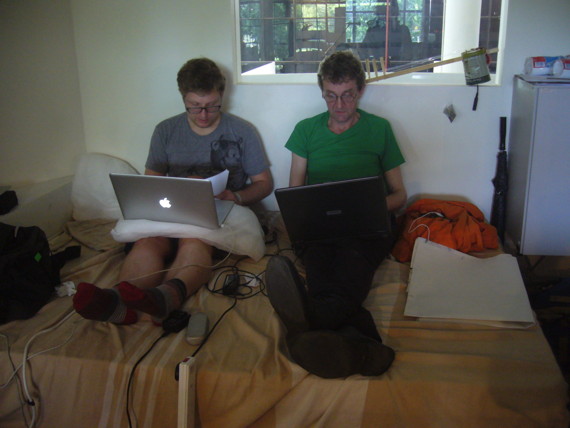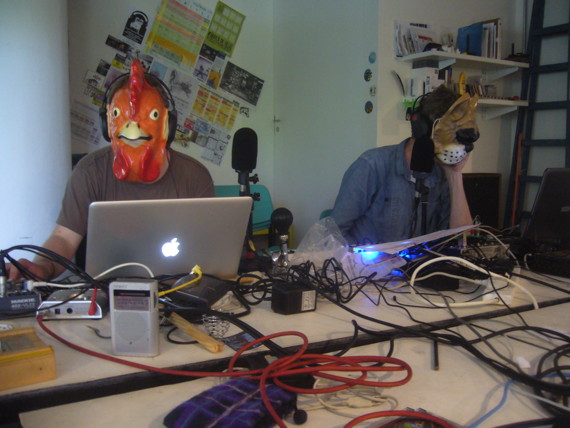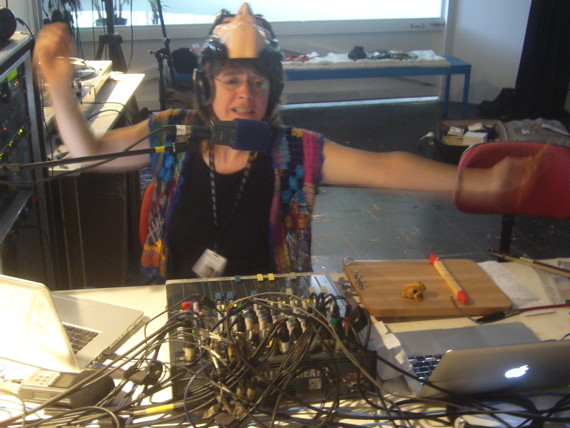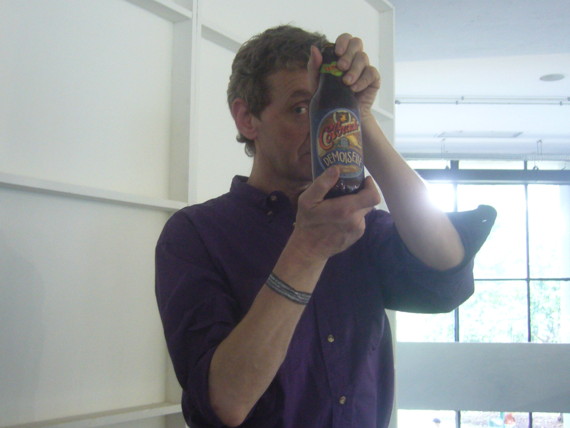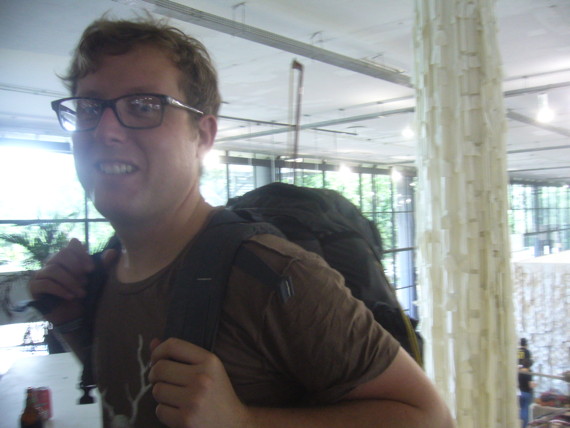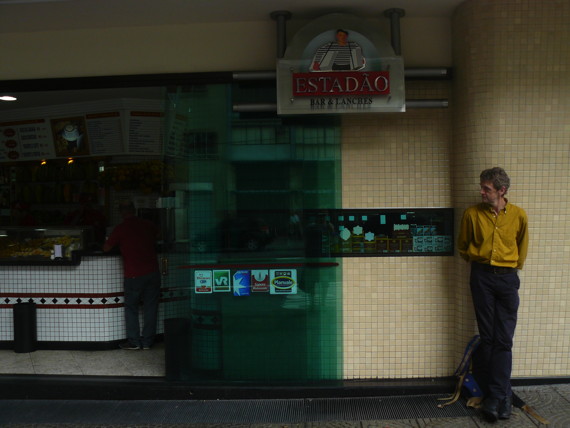 Photos 1, 4 & 15: Glenn Boulter
Our next residency guest had by far the longest journey – half way around the globe – to join us for a week: Haco from Japan. She used field recordings that she gathered around São Paulo to construct a song (listen) explaining her method of working live on air as the piece developed.
We also used the chance to perform a trio with her under the already existing moniker Mobile Radio Band.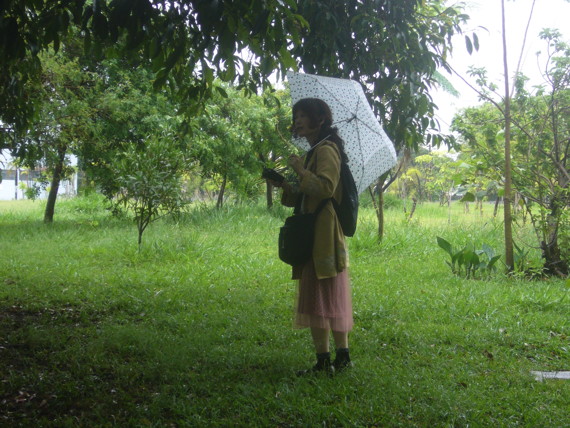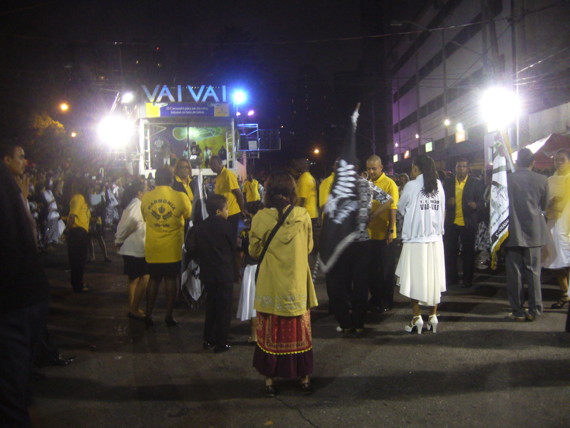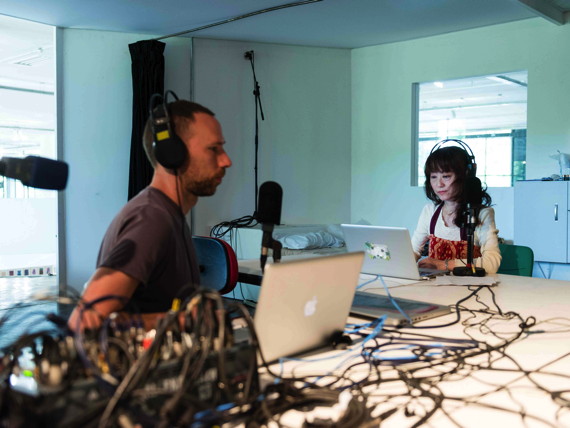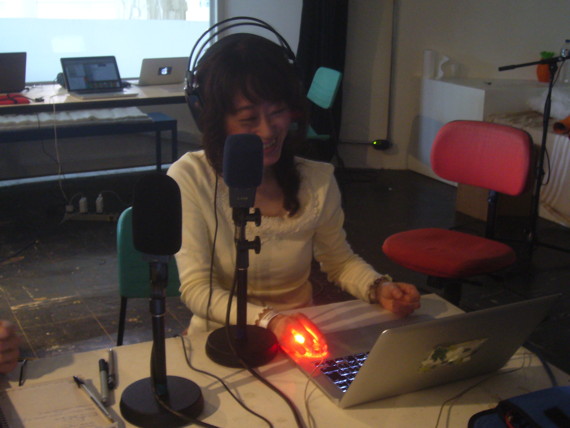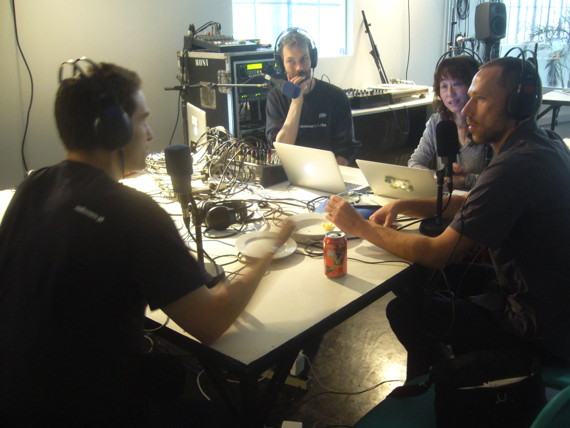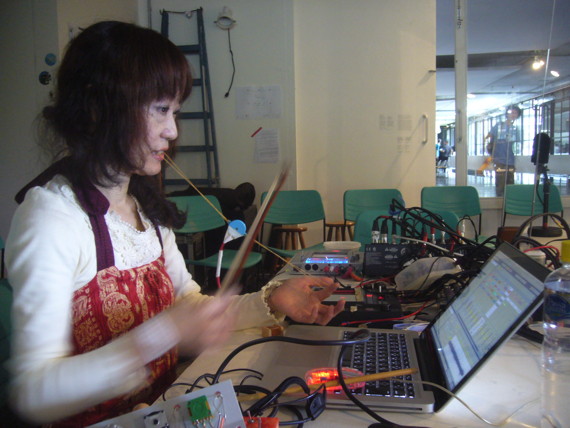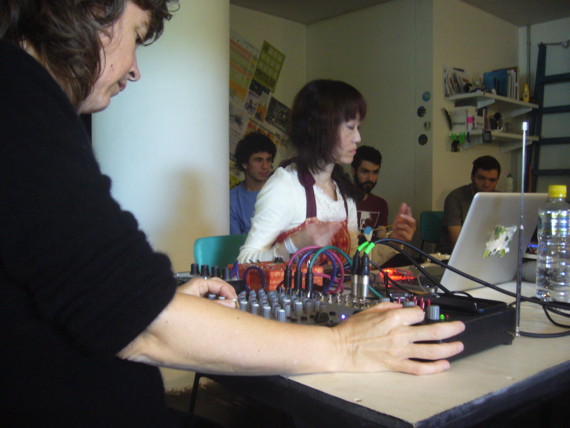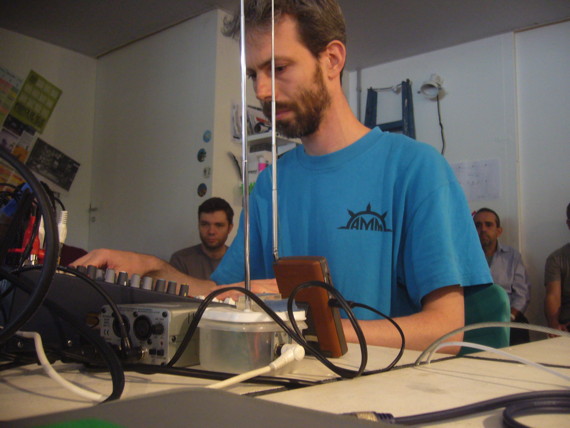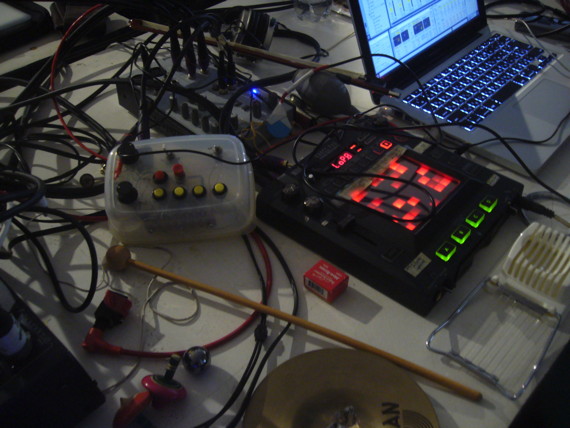 Photo 2: Leo Eloy/Fundação Bienal de São Paulo © Fundação Bienal de São Paulo
The string of daily visitors from near and far continued throughout the 14-week life span of Mobile Radio BSP. Pictured below are Theresia Louise & Carlos Ulmo, Akin Deckard (listen), OuUnPo (Claudia Squitieri, André Cepeda, Samon Takahashi) & Claudia Cardinale, Daniel Scandurra & Gregorio Gananian, Ciudad Abierta, Voodoohop, Marion Velasco, Lenora De Barros & Artur Lescher and Radia's Ricardo Reis who was luckily in town on other business.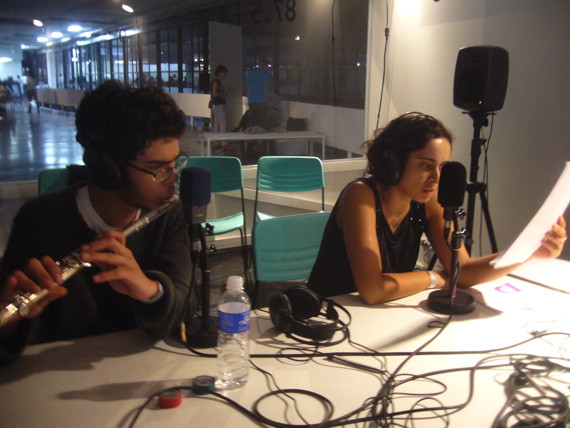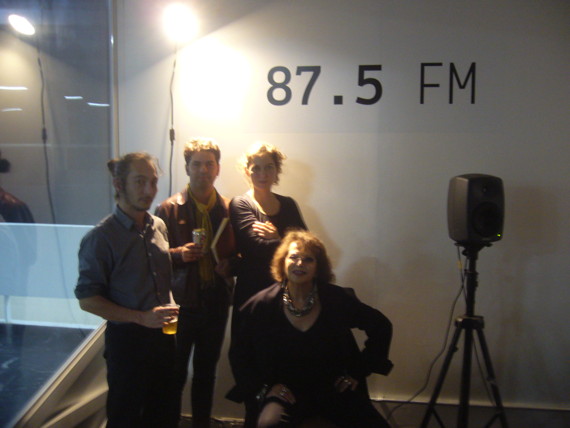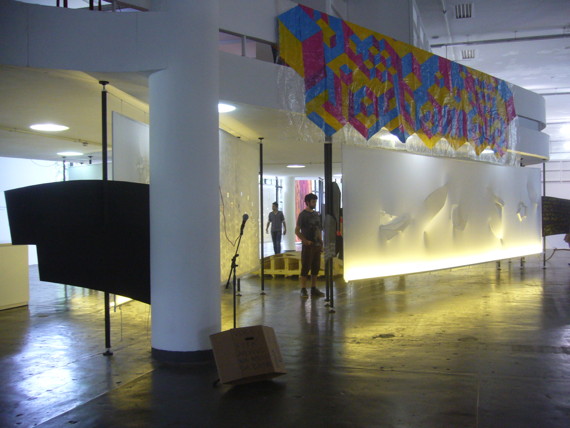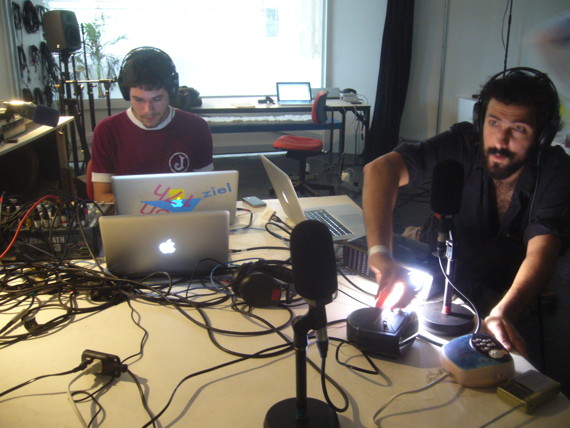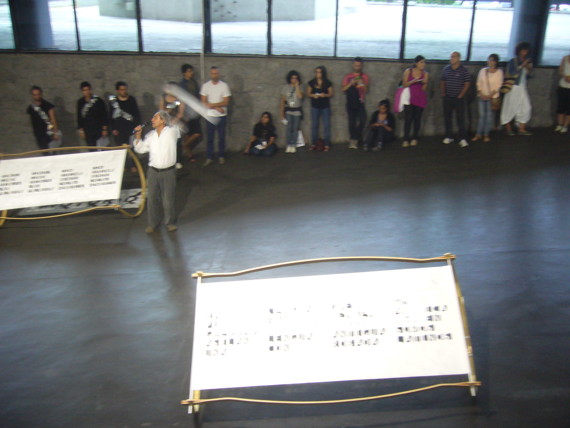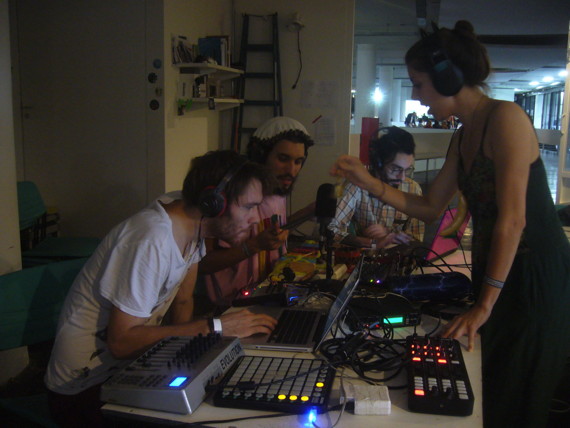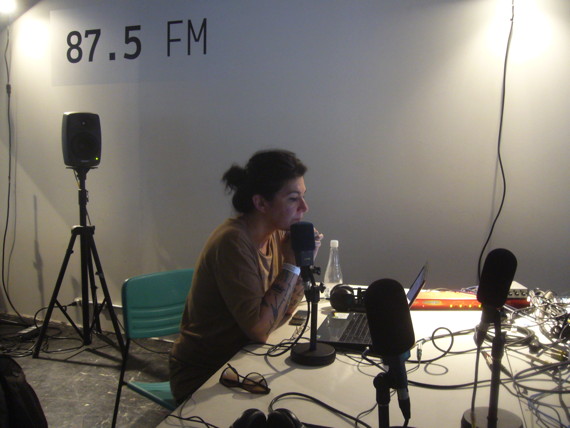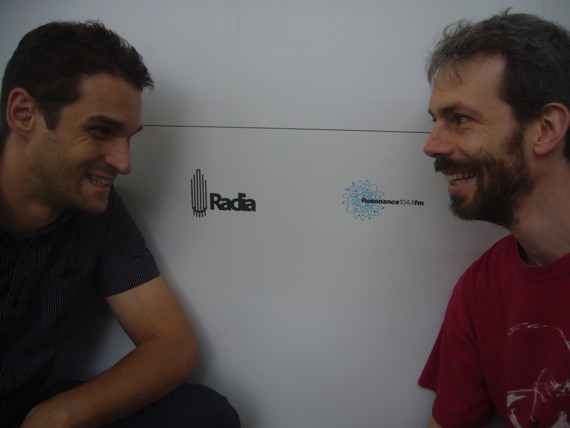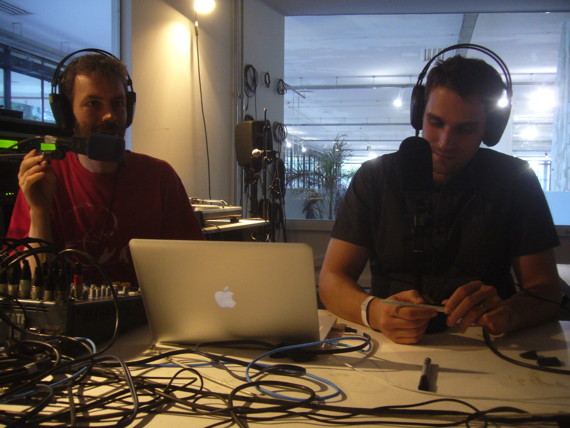 Of course our regular shows continued as well, including:
– Massa Critica: academic discussions hosted by Leandro Nerefuh, here a. o. with Daniela Maura Ribeiro and with Samuel de Jesus, Joaci Pereira Furtado & Julio de Paula
– Bienal Life: works of other Bienal artists, here presented by our curator Tobi Maier
– Pipa Musical: XTO and Rogerio Krepski's radio art mayhem this time with Laura Wrona (listen) and flooding the studio with black fortune cookie balloons (listen)
– CACOFONIA: with Bruno Mendonça
– TELA DE LETRAS: stories from in and around the surrounding Ibirapuera park presented by Rita Alves
– Oidaradio Sessions: with Koch/Rohrer/Gianfratti (listen), Auto (listen) and Coletivo Abaetetuba (listen)
– Supertônica – Risco no Disco: presenter Arrigo Barnabé in discussion with composer Denise Garcia (listen)
– A Hora da Espinha / A Hora do Educativo: school kids from around the state touch down at the radio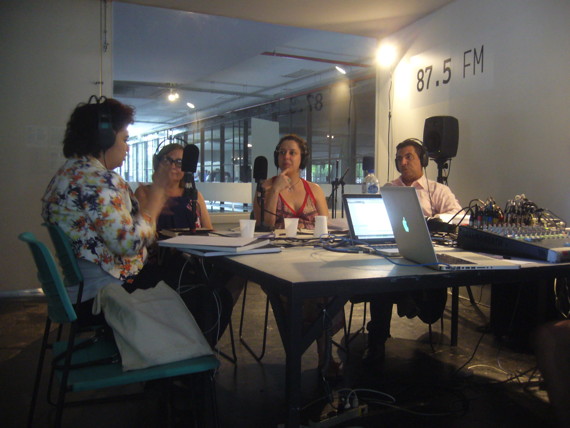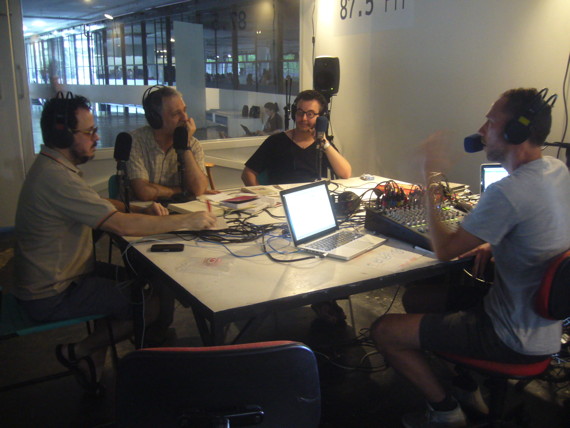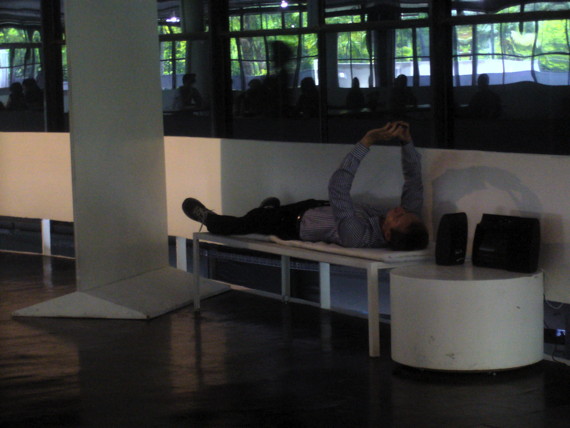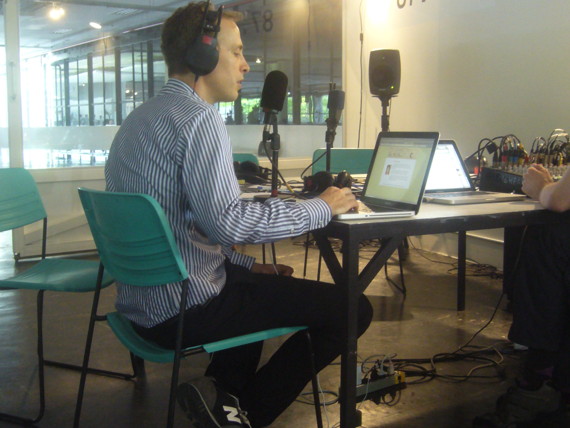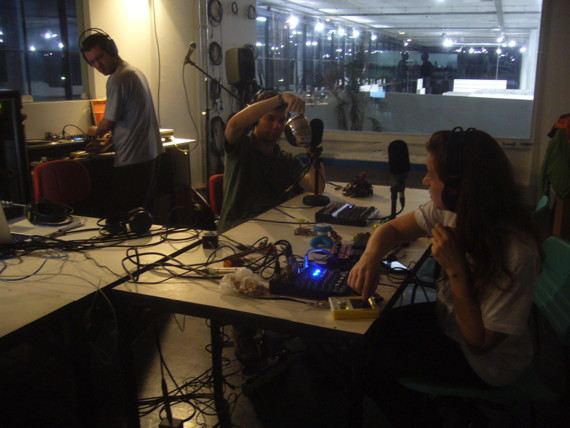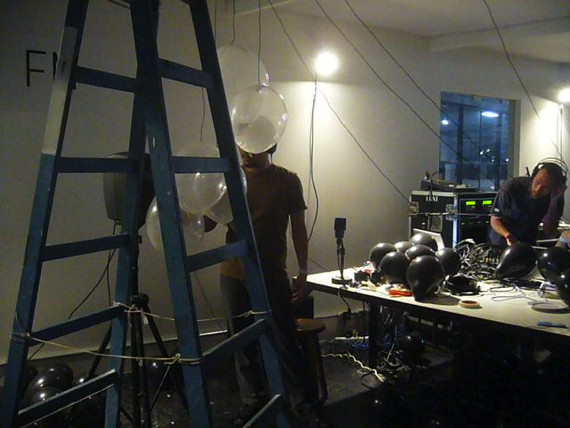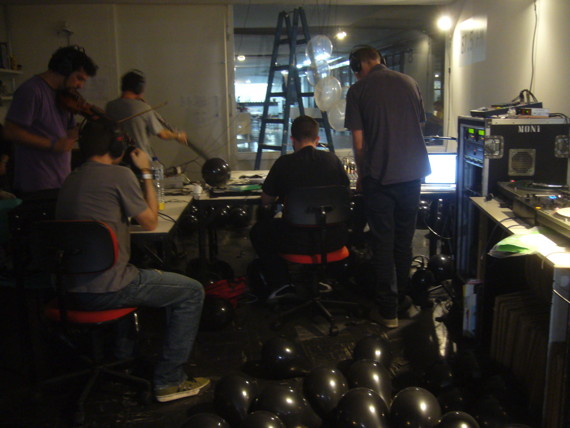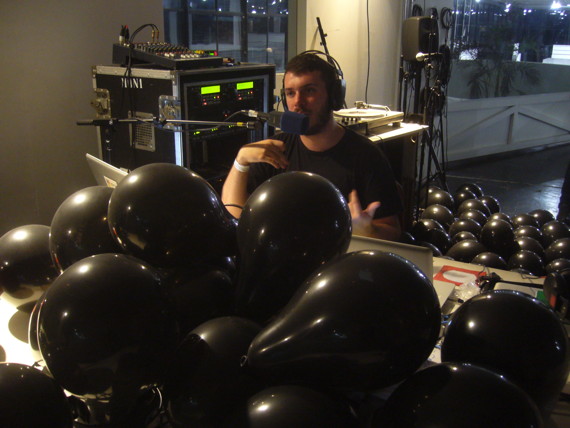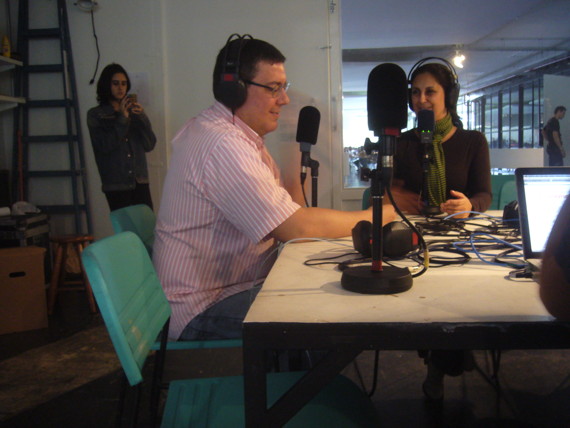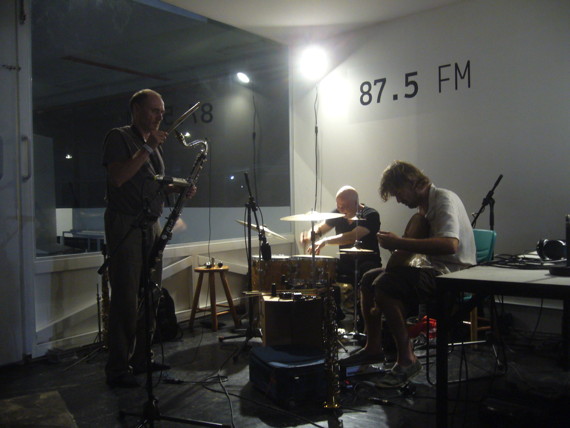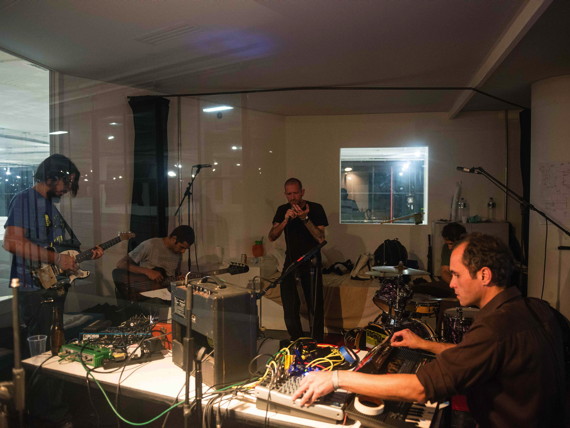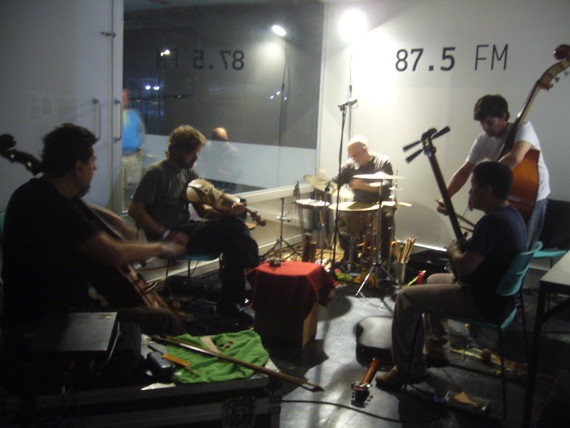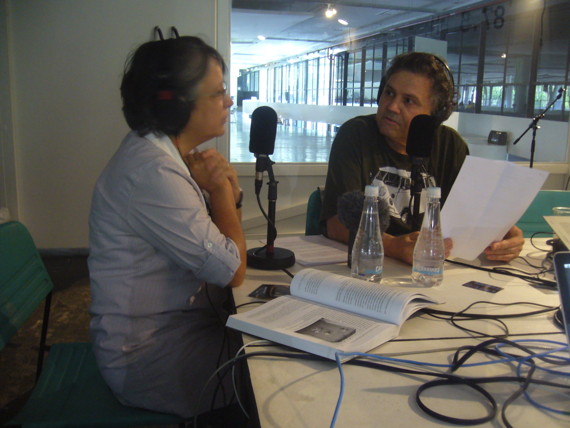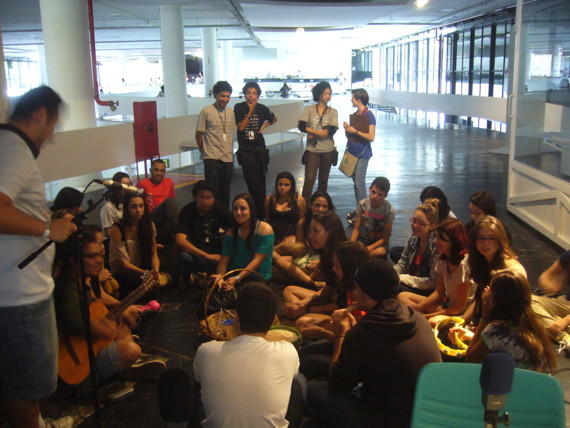 Photo 11: Leo Eloy/Fundação Bienal de São Paulo © Fundação Bienal de São Paulo
To go to the final part of our Mobile Radio BSP documentation click here.